Institutions constituency
Oriental Theological College is sponsored and ran by United Sangtam Baptist Lithroti Ashimükhong, which is a constituent member of Nagaland Baptist Churches Council. Although it has its assimilation from Baptist tradition and practices, the institution remains faithful to evangelical faith and practice and is open to all the denominations. The nature and work of the institution exhibits its faithfulness to meeting the needs of the churches and missions particularly that of North East Context.
The College has land which was acquired from Sangsomong and Holongba villages, who graciously made the land available for the purpose of USBLA. From the campus location, one could see the most picturesque view of God's beautiful creation of nature. The campus is located on the national highway to Tuensang. Most of the buildings that are standing tall are constructed with the contributions from the Jubilee Contribution of USBLA, local churches, and individuals.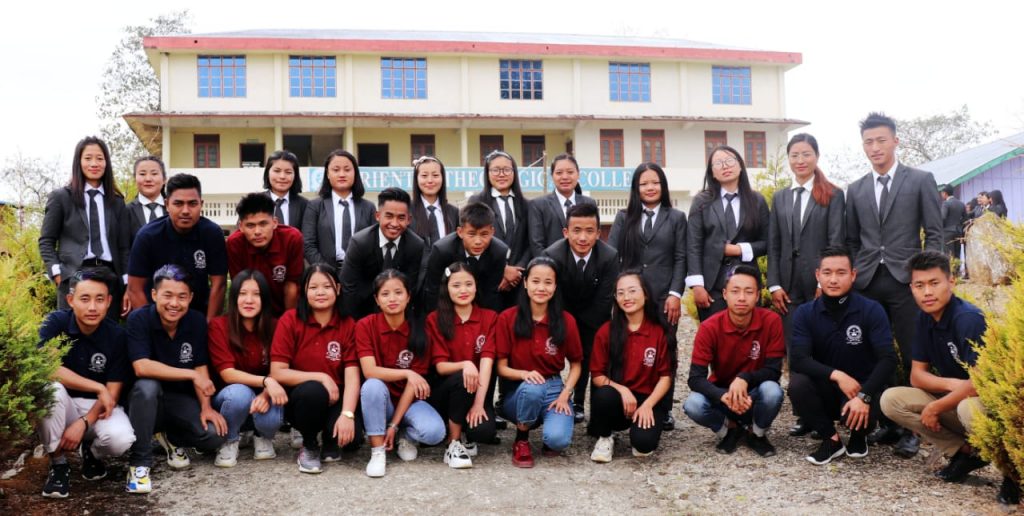 Board of Directors:
The governing body of the college is the Board of Directors appointed by the executive council of the United Sangtam Baptist Lithroti Ashimükhong (USBLA). The members of the Board represent pastoral, administrative and management expertise with a deep sense of commitment to the cause of theological education and mission of the church. The Board functions to make policies generate developmental ideas and legislate certain rules and regulations.
Library:
In any place of learning, library is one of the most important assets. The college aims to introduce the students to the extensive resources in both Christian & secular literature and to help them to become proficient in the use. The college library has an extensive selection of some 12,000 book titles and its continually growing. The library also includes a numbers of thesis, periodicals and newspapers. Wi-fi connection has been done and it provides e-book reading materials of about 6000 titles to substantiate hard covered books. Dewey decimal classification was done and is looking forward for digital classification in the coming years.
Plans and Projects:
The college will continually subscribe to the following action plans:
Faculty development Fund and program: One or two churches should come forward and commit to the pay salary of the faculty members
For infrastructure development: One or two churches should commit to take care of the three faculty quarters that are needed in two years
For library upgradation: donate copies of the book by every member of the churches under USBLA and initiate consortium of library online networking). Individuals and churches also should come forward. It is the heart of the college
Academic development: Co-ordinate with the Academic Board for finalization, approval of the courses and academic regulations, and other staff guideline, other policies with the founding member colleges of ATA. Work out continually with the criteria of accreditation and academic collaboration
Mission & Vision awareness: Make churches and people know about the mission and vision in collaboration with the founding member colleges
Developmental activities: Along with other board of directors, explore resources from the churches, Government and mission partners for infrastructure development and other program implementation and explore resources for continuing programs from Govt and some foundations
Existing self-reliance project: rural human capacity enhancement skill should be imparted to successfully undertake the Organic farming project